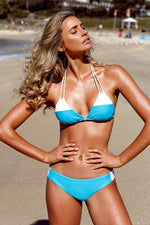 Last week we travelled down to Sydney to shoot our upcoming collection, which is due to be released later this year, in time for the Australian Summer. 
 
Our amazing model Ashley @ashley_oh getting ready for the shoot 
After having to postpone due to the wild weather in Sydney, and Ashley flying in from the Sunshine Coast twice, we were super excited to get an amazing sunny day and the weather could not have been more perfect. We were also very excited to shoot with Josie from It's Now Cool, as we love all of her work! 

Hair and makeup by @tez_misstez 
We got a great nights sleep before the shoot, staying at Ravesi's Hotel in Bondi. Up early the next morning the talented Terri from Miss Tez looked after hair and make up of our amazing model, Ashley. Our friends over at Nakula Organics kept us hydrated throughout the day, thank you so much guys ! 

The perfect view to wake up to at Ravesi's, Bondi 
We are absolutely thrilled with the results and most importantly we all had SO MUCH FUN on the day of the shoot, and for us, that is what it's all about! Here are a few more behind the scenes shots from our amazing day in Sydney xx

Everyone working their magic! Josie behind the lens, Ashley in front, and Alex assisting 

Ash in between shots 

Funnest day with these guys! Thanks so much to everyone involved in this shoot! x x 
Model: @ashley_oh from Chadwicks 
Photographer: @itsnowcool
Assistant: @alextracey_
Hair and Makeup: @tez_misstez
Shoot C

oordination: @carlyleah & @simonewilkins_epv