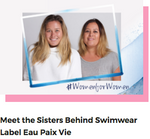 We were thrilled when our friends over at
Libra
 invited us to be a part of their #womenforwomen blog series. See below to read more about us, them, and why they're passionate about girls and women in business! 

At Libra, we love celebrating women, cheering them on as they live their best lives. In our blog series #womenforwomen, we're shining the spotlight on Australian and New Zealand boss ladies who truly inspire us, in life and biz! Why? Because we think women are a force to be reckoned with - we know the only time a woman is helpless is when her nail polish is drying. 
Today, we're chatting with the fierce gals behind Aussie swimwear label Eau Paix Vie. Meet Carly and Simone, sisters whose creative minds work best in unison, usually somewhere near salty waters and lots of sand. We're chatting with this dynamic duo to catch up on all things from Eau Paix Vie inspiration to the magic that unfolds through supporting your sisters, both biological and friendship-bound.
 When it comes to their bikini brainchild, Carly and Simone give cred to international inspiration.
"We wanted something that represented the world – so we decided on the French name of Eau Paix Vie as it translates to Water, Peace, Life," Carly tells us.
Even if we aren't fluent in Croissant, we can't help but reach for our passports, search through turquoise waters on Insta 'Places' and plan a tropical, Riviera getaway with the wanderlust-inspired pieces that these two create. On where all this inspo comes from, the girls pin it down to some serious globetrotting tendencies. 
"We both love travel. I had returned from a year spent travelling through Asia, whilst Simone had been travelling in Europe, when we decided we wanted to do something that would enable us to travel whenever we wanted," says Carly, one half of Eau Paix Vie.
Like a classic Blair/Serena scenario, the pair share a common adoration for beautiful things, but it's where they differ that the magic really happens.
 Working together can be a challenge but as we often work remotely we aren't always together. Simone looks after the creative side of the business, whilst I look after the business side," explains Carly.
 When it comes to the biggest #pinchme moment for Carly and Simone, our jaws were droppin'. Basically, Kendall and Kylie Jenner wore EPV and sparked a wild wave of attention for the brand. "That was at the time where influencers were at their peak so that was huge for us and we sold out that day," says Carly. Phwoah, talk about sisters supporting sisters.
When a creative rut kicks in, finding new inspiration can be really tough. Carly and Simone take a 'Time Out' approach to rejigging their perspectives and attracting those kick-ass, innovative vibes. (We're officially jealous of their jet-setting agendas).
 "Travel is the most inspiring thing for us both. We always try to go off the beaten track, even for a few days when travelling and also endeavour to go to new places and try new things. This helps us to stay fresh and inspired to develop new patterns and designs. Through travel, it's not just the landscape that provides inspiration to us, but the people that you meet, stories they have, adventures you experience, foods you will try – the entire experience acts as a creative muse for all aspects of EPV."
 We asked Carly and Simone who Eau Paix Vie would be if she was a girl, and she's someone who we want to go on ALL of the brunch-to-beach dates with. Carly describes her as "fun" and "carefree". She "loves to explore and experience new things, and is happy and confident in [herself]."
Lastly, we couldn't help but bug the girls for some hot tips on pursuing a passion, and maybe even turning it into a business concept. Carly's top tip is to "stay true to yourself".
 "Don't worry about what other people are doing. If you believe in something, are passionate and dedicated to it and stay true to it, other people will love what you do," she says.
 When it comes to Simone, her only extra bit of advice is "don't forget to always have FUN!" Don't you worry, we wouldn't dare. 
Love, Libra
You can read the article in it's original format here.