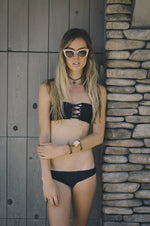 Natasia, Orange, California, USA
 
This month whilst over in the U.S, we met up with the lovely Natasia and asked her a few questions...

If you could live anywhere in the world, where would it be, and why?                         I would probably say Bali! I have never been but there is something about its jungle-like lifestyle that I am so drawn to! Being surrounded by nature is a must for me. Breakfast by the water, yoga in the treetops.. everything seems so simple and peaceful.

What is your favourite meal to cook, and will you share the recipe with us?
I have a few depending on the season! One of my favorites is most suited for the winter but can definitely be enjoyed year round when you're in the mood for something hearty and warm. Shave brussels sprouts and dice up sweet potatoes then roast them in the oven once they are tossed in olive oil, salt and other herbs to your preference. As those are in the oven, cook quinoa in vegetable stock on the stove. (I like using vegetable broth because it adds a little extra flavour!) Once the veggies are done and the quinoa is drained, mix them all together in a big bowl. Add in pumpkins seeds for some extra crunch and a little shaved parmesan cheese if you're not against dairy to blend all the flavours together ;)
If you were stuck on an island with an Eau Paix Vie bikini of your choice and another two items, what style would you pick and what would your two items be?
The
Aloha Top
and Sadie bottoms in purple and orange.. I love those colors together they make me smile! 2 items.. hmm.. probably water and a camera. Is that lame? Then at least I could document my adventures!
The Eau Paix Vie Aloha Top

If you had to choose - no snapchat or no instagram for a month?
Oh shoot. I hate both, but also love both.. haha think I would say no Instagram! Thats actually kind of a good idea. Snapchat is fun to see what random things people are up to during the day but Instagram is often all a facade.. oops, I said it!

What does your exercise plan look like and can you give us any tips?                  Yoga and Pilates every day! I'm obsessed. I have been training to get my Pilates certification these past few months so it's fun being able to make up my own creative routines. And yoga is just a must in my life. I would say I'm borderline addicted. As far as tips I would say focusing on your core is the first step because all movement stems from there. And a common misconception is that your core is just the front side of your abs but thats not true! Your core is the region from your sternum to your pelvis and wraps all the way around your entire mid section! Training with the core in mind with provide optimal results.
So you live in Orange, California, what are your favourite places to eat and have coffee there?
There are so many! Some of my favorite almond milk cappuccinos are from
Urth Cafe
and
Intelligentsia
in Venice. They've really got their frothing down. Also the lavender latte from
Milk & Honey
in Costa Mesa is to die for. I'm a huge Mexican food person because I LOVE tacos and chips so I would say
Bear Flag Fish Co.
and
Wild Taco
are two must- tries in Newport. Literally obsessed.
photo via www.milkandhoneycostamesa
Natasia wears our Black Coconut set in all images and images are courtesy of @victroiamouraphoto