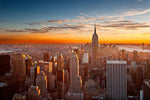 Here is a little look into our recent trip to New York City, we hope it gives you some ideas of where to eat, what to do, and where to stay in this amazing, fun, exciting, and very full of life city. 
ENJOY ! X
                           
                                                  Exploring the streets and windows of New York City               
                       
WHERE WE STAYED 


We stayed in a 2 bedroom Apartment in the Lower East Side. This gave us a great understanding of what it means when people say NYC apartments are tiny! However, location is key, and you could not get a better spot than our little dime we found on airbnb.
The Lower East Side is absolutely full off little cafes, boutiques, restaurants and bars. They also have amazing Speakeasys which are super fun, basically they are like a secret bar and restaurant - the front could be anything from a Piano Shop to a Jewellery Store, and once you are inside we found some of the funnest bars and people all partying and having a great time. We found the people in this area to be very cool and so friendly and helpful. 
Everywhere in New York runs late hours, many places are open until 3 or 5am, and lots of pizza places just never close, and are open 24/7.
We spent a lot (like seriously a ridiculous amount) of time walking around Manhattan to explore. The subway is handy, but we feel you see and experience more on foot as every street and every alley pretty much has something cool on it in NYC!
Prepare yourself to be more than busy as sleep is not really included in this busy city! (Although if you do like to sleep, most things really don't even open until 11am - midday, and brunch - normally with endless Mimosas - is available everywhere!) 
                           
Our apartment - Ludlow Street, Lower East Side 
                          
WHERE WE ATE 

We really did eat at so so many different places, we love food so much and wanted to try everything! Food makes up so much of a city and it's peoples culture and we absolutely tried to experience as much of it as humanly possible.
New York really knows how to do a bagel!  If you love bagels as much as we do we recommend you try  Russ and Daughters  for a salmon and cream cheese bagel. It's not the cheapest you will find (in fact, possibly the most expensive), but this family knows what they are doing. Four generations of the Russ family have been smoking their own salmon, whipping their own cream cheese, and rolling and boiling their own bagels since 1914. They are around $17 each (as opposed to your neighbourhood bodega who might charge more like $4), but with the quality of the food, the options in your salmon and your cream cheese, we had to try - and it was well worth it! We tried the New Zealand King Salmon with horseradish dill cream cheese on a seeded bagel. Russ and Daughters in a New York Icon and we can see why! 
Other places in the Lower East Side that we became fond of included The Meatball Shop, El Rey Coffee Bar & Luncheonette and Epsteins Bar, which are all located right on Stanton St, which was just metres from our apartment. 
Melbourne influenced and overall Australian stylised Blue Stone Lane Cafe has locations across the city. We ate at the Soho branch and had excellent coffee as well as tried the  Pumpkin & Feta Fritters
W/ smashed avocado, smoked salmon, pickled beetroot & arugula, as seen below. 
                                                  
Blue Stone Lane Cafe, Soho
                        
Salmon and Cream Cheese bagel from Russ and Daughters   
WHAT WE DID 
In the city that never sleeps, it's so true, and we were constantly busy. There was always something to do, and rest time was constantly at a bare minimum, we wanted to do it all! It's all there to do at any time you like, so you really can fit so much into your days. 
We truly had so much fun and were so excited in everything that we did. From riding bikes around the city (we did this on 3 occasions it was so much fun, so easy, and there is a never ending plethora of things to see); riding the subway; having a picnic in Central Park (thanks WholeFoods!); walking across Brooklyn Bridge and eating at Shake Shack underneath it; stopping for photos (of course!); and finding cute little dive bars across the city. 
Dive bars are amazing - they always have really great specials and deals and the people are so friendly. Most of them also have jukeboxes so as the night goes on it only gets more fun. 
Shopping in SoHo - We spent a good 9 hours in Soho and still did not manage to go into every store. There are so many amazing shops along that strip and loads of cute cafes to stop and have lunch at.
Top of the Rock -  you can do this day or night,  we only had time to see the day view but it was so well worth it. As far as city views go we would say that this is our favourite in the world. 
 The Governors Ball Music Festival on Randall's Island is a three day music festival we were lucky enough to attend. Favourites that we saw included Flume, Florence and the Machine, Odesza, Little Dragon, Angus & Julia Stone, Vance Joy.... and we could keep going.. the whole vibe of the day was just amazing, everybody really friendly and we were just so happy to be at a festival in New York just a short ferry ride away from Manhattan. 
                                     
Walking across the Brooklyn Bridge 
                                                    
Fun times at Gov Ball Festival                   
                          
                        WE LOVE NEW YORK CITY AND CAN'T WAIT TO GO BACK!