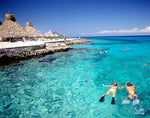 Our recent trip to Mexico was an amazing one - the food, the culture, the people, we just had a really fun and inspiring time. It has been of our favourite places to visit in the world for a while, so we already knew that we would be in for a fantastic time. 
For our first few nights, we did something that we wouldn't normally do and got very touristy staying at an all-inclusive hotel in Cancun. It was a really interesting and fun experience and whilst we wouldn't do it all the time, it's definitely something we would recommend doing at least once when you're in Mexico, even for just a couple of nights. After our arrival from NYC we could not wait to lay by the pool and sip on some margaritas - after a mix up where we were dropped at the wrong hotel (who were incredibly welcoming, offering us complimentary food and drinks whilst we waited for our driver to return), we then arrived at Beach Palace. 
The rooms were incredible - amazing water views and a huge spa bath right in the room. The staff were incredibly friendly and helpful. Whilst the all inclusive experience is really something else, after two nights we were ready to head to our next destination - Playa Del Carmen. 
Playa was a lot more touristy than we had expected also, but a fun place and a great introduction to that side of Mexico. The food was fantastic, we made sure to get off the main streets and try to eat at more localised venues, food trucks, hole in wall vendors etc. Which is where we found the best Mexican food of all - really well priced and not like most of the Mexican food you will find in Australia, we loved it. The cocktails are amazing, and the Dos Equis were always welcomed. 
If you are planning a trip to Mexico, or just want to know a little bit more about the side that we visited this trip, the Yucutan, here are some things that we loved to do: 
Swim at the Cenotes
The prices differ depending on where you go, and some can seem expensive to get into  but once you go in you will see the price is well worth it for the beautiful swim. We didn't have the best weather the day we went, it was overcast and sprinkling, but as you can see the water is still really beautiful. Lots of people snorkel and the water is crystal clear. You can get buses, we went in a taxi which can also be quite expensive, keep in mind you can bargain the drivers down.  The Cenote we went to was around a 25  minute drive from the city centre of Playa.
                                    
                                                Swimming at a Cenote in Mexico 
Go to Tulum 
Tulum is just so beautiful, you have probably seen it before in photo shoots as it provides an incredible back drop. We didn't stay as there is not much going on at night time and we already had accommodation back in Playa, but it's very easy to get to - around an hour bus trip and well worth it. Tulum would be an amazing spot to stay if you really just wanted to relax and hang out in absolutely beautiful surroundings. We found it to be really safe, and buses leave to and from Playa around every 15 minutes. We hired Bikes and rode around the town exploring the beaches which were simply stunning. If you are going to do this please keep in mind - it can be incredibly hot! So don't make the mistake we did of bike riding right smack bang in the middle of the day. We also really enjoyed the markets here with lots of traditional Mexican wares such as blankets and bags. 
                      
                                                             Bike riding in Tulum 
                       
                                     
                    One of many amazing meals in Mexico - Fish and Chips on the beach in Tulum 
Take a boat trip to Cozumel 
Cozumel is renowned as one of the best diving islands in the world. It has crystal clear waters, soft white sand beaches and stunning bright coral reefs. This island is absolutely amazing.  We hired a car and just got lost around the island, we probably drove around it about ten times.  It was perfect for snorkelling and tanning, there are a lot of restaurants and bars on the island and it also feels very safe. As a group of girls in a convertible car we had no issues at all.  We highly recommend going on a day trip or staying a few nights here and we would love to go back and spend more time on Cozumel. 
                  
                            One of the worlds most amazing islands - Cozumel 
                      
Every time we go to Mexico it just gets better and better and we can't wait to explore more of this incredible country where the people make you feel so welcome and your surroundings are nothing short of interesting wherever you may go. 
SIMONE & CARLY
X
(top picture is via http://mexico-weather-info.com/cozumel-weather)